Small Group
Western Law divides all its 1L students into "Small Groups." Each Small Group is assigned a letter of the alphabet and a Professor is assigned as its Leader. Your Small Group provides you 21 instant friends on the very first day of school and they will likely become your biggest support system as first year progresses. Of course, you will make friends outside your Small Group, but this is the group of individuals you will share each and every class with. You will take one of your courses exclusively with the other members of your Small Group, led by your Small Group Professor. Many Small Group members share notes, delegate summaries, hang out after class or create study groups. You will find it invaluable to have people in your first year who share all of the same classes and experiences.
Although Small Groups only exist in first year, the people in your group will be a great network throughout law school and your friends for life. We encourage you to spend as much time as a group as possible – dinners, virtual study sessions and more! So, start early and be sure to make the most of O-Week with your new group.
Textbooks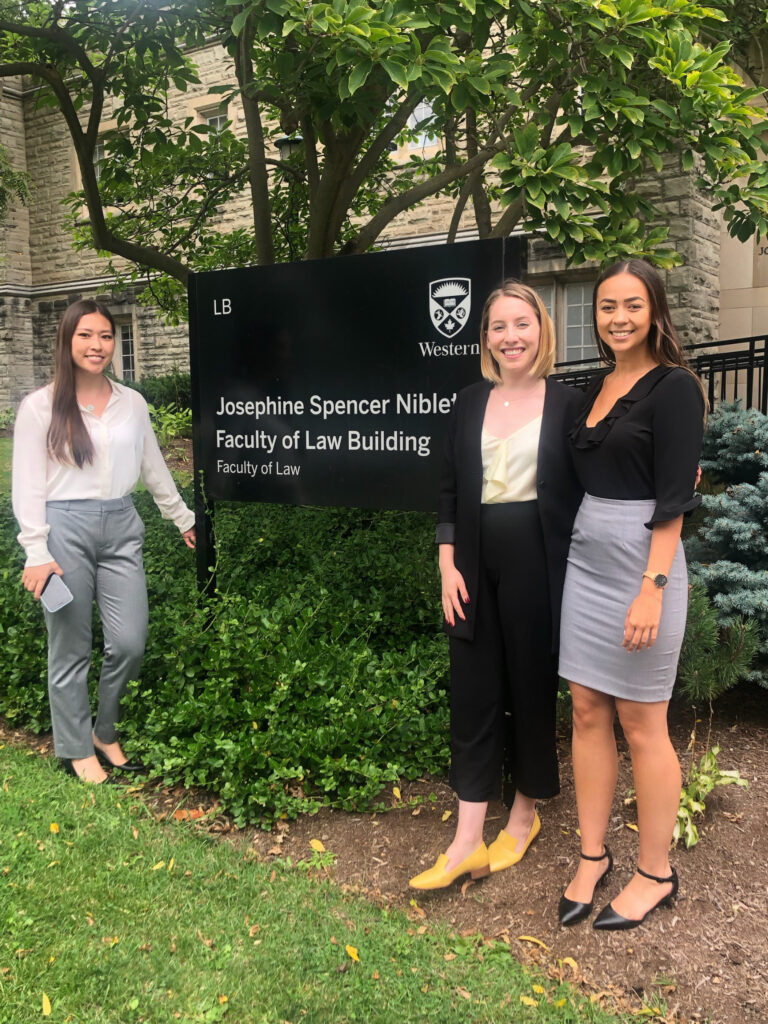 During Orientation Week, you will have the opportunity to purchase your textbooks. Booklists are distributed by Western administration, so don't worry if you haven't received one yet. Be prepared, as first year books can cost up to $1000 in total! The UWO Bookstore is located in the basement of the University Community Centre (UCC), and has extended hours during Orientation Week. For more information about the UWO Bookstore visit https://bookstore.uwo.ca/
You may also be able to purchase used versions of many of your textbooks from upper year students! These are typically advertised on Facebook, so keep an eye out for textbook posts in the first two weeks. In addition, many course textbooks, including digital copies, can be purchased directly through the publisher, or through Amazon.ca.
You will be assigned to a locker on September 7th as well, so feel free to store your new books in your new lockers!
Laptops
Laptops are a staple at Western Law. Most students bring them to every class to take notes (unless you have Professor Kostal!). One great way to stay organized is to keep all the notes for each class in one folder or document and you will always be able to quickly locate exactly what you are looking for. You will be able to access the internet anywhere on campus – including during class time, so beware! Your professors will inform you of any specific policies they have on computer use in the classroom (see: Professor Kostal). Do not forget to back up all your work to the cloud (i.e. Google Drive, Dropbox) in the event that you have unexpected hardware issues!
Five years ago, Western officially implemented computerized exams. Make sure that you have a reliable laptop if you choose to submit your exams electronically. Writing by hand will still be an option for those students who prefer the traditional method.
Note taking will not be necessary on Tuesday, September 7 – so leave your computers at home! You will have plenty of things to do that day and you certainly won't need the extra weight!
Courses
In first year, all 1L students take the same core courses taught by a variety of professors. In upper years, you are free to choose your courses. Be open-minded about all of your first-year classes as you may be surprised about the areas that interest you! Below you will find how the academic year is organized.
Fall Term
The Fall term lasts until the December holidays. You will take 6 courses in the Fall term of your first year. Five of these courses last all year: Constitutional Law, Contract Law, Criminal Law, Property Law, and Tort Law. Of these 5 courses, you will take one exclusively with your Small Group. These courses will have a midterm exam in December, worth 20%-30% of your final mark. Given the relatively low weighting of the midterm, there's no need to stress: even if you do poorly, you can absolutely make up for it on your final exam! That being said, make sure to study hard and take your December exams seriously. These exams are a great opportunity to diagnose any areas where you can improve, in order to help you prepare for finals.
The sixth core course of your first semester is Legal Research, Writing and Advocacy, or LRWA. You will take this course throughout the Fall term, and focus on it exclusively in January. The Fall term of LRWA consists of writing case briefs, comparing and analyzing cases and writing a short legal memorandum. Large group sessions of LRWA will be taken with your entire 1L class and will be supplemented with Small Group LRWA sessions.
January Intensive Period
During the first three weeks of January, you will not attend regular classes. Instead, you will focus on one large LRWA assignment. You will research and write a memorandum, between 15 and 25 pages long, based on a topic chosen by your Small Group professor. In January, your Small Group will meet with your professor for a few hours each week to discuss progress on the memo. At the end of the month, when the memo has been submitted, you will partner with another person in your Small Group to write a factum based on the memo. The factum will then act as the basis for a moot. The moot is an appellate advocacy exercise in which each team of two competes with another team in the Small Group. Groups will present a side of the case that was the basis for the memo and factum in a friendly appeal court. Your Small Group Professor and TAs will act as judges and, although no decisions will be reached, the moot court exercise will make up part of your LRWA grade.
Winter Term
The Winter term begins immediately after the January Intensive Period ends, and lasts until April. However, you get a break during the university-wide Reading Week, which runs from February 21-25, 2022. You return to the same five core courses that you started in the Fall, and you will also take either Corporate Law or Legal Ethics and Professionalism. You will choose one or the other during the Fall term and there will be an information session about both courses before you have to decide. They are both required courses, so whichever course you don't select in first year you will take in second year. Final exams begin on April 11, 2022 and end on April 25, 2022 – and that will conclude your first year.
Words of Wisdom from your JPs
Carve out a day or time slot every week to do something unrelated to law. It is easy to think that you need to dedicate every moment to your studies, but there is so much more to you than law school. Working on yourself and developing interests is not only critical to your wellbeing and success but will also make you a better candidate in your endeavours. Schedule this time and commit to activities that support your personal development and passions. Playing a sport, watching a show or exploring new hobbies is not going to interfere with your goals.
The best advice I could give an incoming 1L student would be to trust yourself. Law school can be a very daunting experience. It is easy to feel bogged down by your readings, extra-curricular activities, networking and maintenance of pre-law school grades. It is also easy to feel like you don't belong or that you're not equipped for the challenge. Remind yourself that you are here for a reason and this is exactly where you're meant to be.