Clinics
Community Legal Services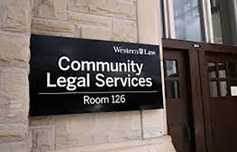 Community Legal Services (CLS) is a legal clinic located within the law school.  Law students, under the supervision of staff lawyers (aka Review Counsel), handle legal files on behalf of low income and marginalized members of the London community, as well as Western University and Fanshawe College students.  It is also an access to justice initiative for people who cannot afford a lawyer.
CLS presents the only opportunity available to law students to appear in court and represent real clients on real cases. Students handle files from the initial client interview all the way to settlement or trial. CLS covers the following areas of law:
Criminal law (summary conviction matters and provincial offences)

Small Claims Court / Civil disputes including contract disputes and personal injury

Landlord / Tenant disputes

Family law

Student academic appeals

Public legal education
In providing these legal services, students at CLS receive valuable legal training in practical lawyering skills such as interviewing clients, document drafting, file and client management, negotiation, as well as court and tribunal appearances including: remands, motions, pre-trials, guilty pleas and trials. In addition to receiving experience, working at CLS represents the opportunity for students to give back to the community by helping people in need who would not otherwise be able to afford a lawyer.
Caseworkers are in second or third year of law school and participate in the clinic for course credit.  First-year students are able to participate in the clinic as volunteer Associate Caseworkers.  Each 1L Associate Caseworker will be paired with a Team Leader who has worked in the clinic as a summer Caseworker.  The Team Leader will act as a mentor and the Associate Caseworker will be permitted to shadow the Team Leader in their clinical file work.  
Associate Caseworkers (1L's) are required to:
Attend training as directed (including Ethics)

Attend duty hours (group discussions with upper year Caseworkers and Review counsel)

Attend client meetings as a note taker

Attend meetings with a Review Counsel & Team Leaders

Assist with Public Legal Education projects such as presentations to community members or development of legal information materials
To be selected as an Associate Caseworker, first year students must go through an application process in early September. Twenty first year students will be selected, (ten for each term). Watch for more details!
Kimberley Gagan 
Director of Clinics & Practical Skills 
kgagan@uwo.ca 
www.law.uwo.ca/CLS/index.html
Dispute Resolution Centre
The Dispute Resolution Centre (DRC) is a not-for-profit organization that provides alternative dispute resolution (ADR) training to students and mediation services to London and Middlesex County residents. It is operated by Western Law students under the supervision of Community Legal Services (CLS). Each year, the DRC takes on a select number of Interns to become certified in ADR after attending weekly, hands-on mediation and negotiation training. ADR Interns also assist in DRC community projects and school initiatives. Currently, the DRC runs conflict resolution workshops through the Student Success Centre, Youth Opportunities Unlimited and Leads Employment, and conducts intakes with peace bond applicants at the London Courthouse. The DRC also organizes the ADR Speaker Series and 1L Mediation Competition for Western law students.
Negotiation is a crucial step in all litigated cases, and Interns may be assisting with Landlord and Tenant Board mediations, Small Claims Court settlement conferences, or Crown Resolution meetings. Mediation is also appropriate for many areas of law and the DRC has previously helped mediate contract breaches, debts, neighbour disputes, evictions, employment disputes, peace bonds, and many other issues. As both negotiators and mediators, Interns will help their clients resolve disputes in a fair and cost-effective way, attempting to avoid the burdens of the court system.
The ADR Internship allows students to develop a strong and unique set of skills applicable to all areas of legal practice. The program is intensive, and Interns should expect to commit an average of six hours of their time per week, with some weeks requiring more and some requiring less time, depending on when work is assigned. Information about the application process will be sent out in early September and applications will be due shortly thereafter.

Shannon Dawson
DRC Student Coordinator
519-661-4044
drc@uwo.ca
www.law.uwo.ca/drc
Dispute Resolution Centre
Western Business Law Clinic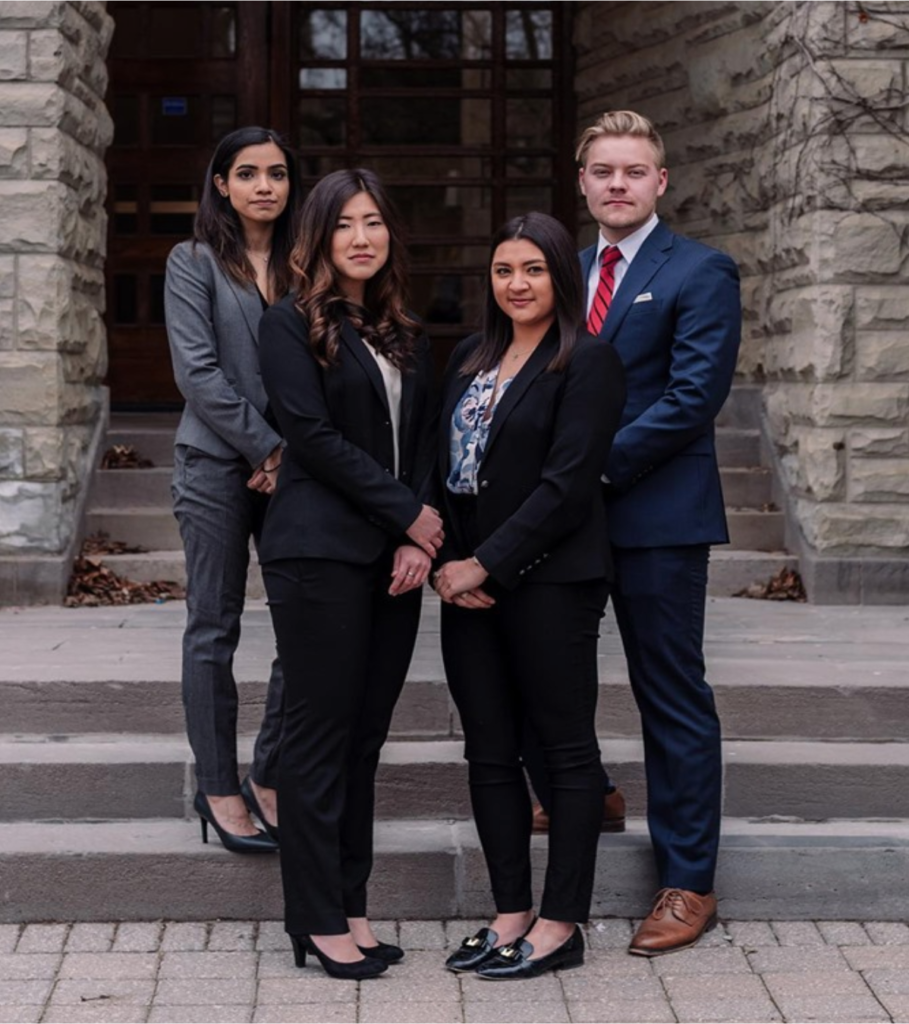 The Western Business Law Clinic (WBLC) provides legal services and information to small and early-stage businesses, entrepreneurs and not-for-profit organizations. The Clinic's services, which may otherwise be inaccessible, help prepare clients to confidently initiate projects and engage in various business transactions. Assistance is provided on a wide range of business matters, including:
Incorporations

Shareholder agreements

Partnership agreements

Employment agreements

Confidentiality agreements

Corporate maintenance/corporate governance

General legal information
At the start of the fall term, the WBLC Directors will hire twelve 1L volunteers for a three-year commitment to the Clinic, who will work on client files alongside a 2L Case Manager and 3L Mentor.
Caseworkers will gain valuable experience and have opportunities to develop client relations, draft contracts and hone their legal research and writing skills. First-year students will have the opportunity to undertake work on a variety of topics, which include: corporate structure; corporate governance; employment law; and intellectual property. The Clinic organizes regular training and professional development events to complement the skills gained from working with clients. Toronto law firm McMillan LLP generously donates the time of its professional lawyers to provide training sessions for the Clinic each school year.
If you are eager to gain practical business law experience in a supportive environment, we encourage you to apply to the Western Business Law Clinic. Please note that past business experience is not required.
Director: Philip King

Student Directors: Alyssa Chen, Rob Leckie

Summer Caseworkers: Ravish Gupta, Haley Daniel, Zagros Habibi
For more information, please contact the Student Directors or visit our webpage: www.law.uwo.ca/legal_clinics/western_business_law_clinic/index.html
Sports Solution Clinic

Sport Solution offers Canada's national team athletes' free access to information, assistance and advice on sport-related legal issues. The only program of its kind in North America, the services of Sport Solution are available to all members of AthletesCAN (The Association of Canada's National Team Athletes). Sport Solution assists with issues related to team selection, carding (athlete funding), discipline, doping, athlete agreements, arbitration and mediation. The clinic also offers athletes guidance on how to avoid conflict and advocates for the fair administration of sport in Canada. Sport Solution provides an excellent opportunity for students to practically apply their studies to the interesting and dynamic area of Sport Law.
At the start of the fall term, the Sport Solution Program Mangers will hire eight (8) 1L volunteer case workers to research files and assist athletes in resolving their disputes throughout the year. In addition, interested students may apply during the Spring term for a Program Manager position. The Program Manager position is paid employment during the summer months following the 1L year.
​Supervising Lawyer: Amanda Fowler

Program Managers: Brittany Bates, Greg Cherniak, Margaret MacKinnon, Tyler Matthews, Tyler O'Henly,
For more information, please feel free to follow the clinic on Instagram @sportsolutionclinic or email the Program Managers directly at sportsolution@athletescan.com.
Pro Bono Students Canada
Pro Bono Students Canada is an award-winning program that provides free legal services to non-profit organizations and low-income Canadians in 20 cities from coast to coast. For over two decades, PBSC has been training law student volunteers to help vulnerable Canadians with their essential legal needs. Partnering with courts, community organizations and law firms, PBSC offers innovative, high-impact placements in all areas of the law. Operating in 22 law schools across Canada, PBSC has exposed generations of law students to the value of pro bono service, helping to create a culture of public service in the legal profession. For the 2020-2021 academic year, PBSC Western is offering 25 unique placements and will be recruiting over 55 student volunteers in the following categories:
Legal Clinic Externships

: Students volunteer with a legal clinic providing research assistance, meeting with clients, and drafting submissions.

Legal Research

: Students are involved in internships ranging from providing legal information to creating resources for supporting marginalized communities. Students may also research diverse topics ranging from environmental law, employment law, non-profit corporate law, and human rights.

Public Legal Education

: Students prepare public legal information materials and present them to local schools, clinics, and organizations.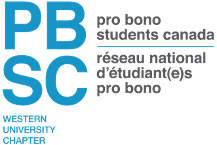 James Hutchinson & Sarah Hagarty
Pro Bono Students Canada
Western Law Program Coordinators
pbsc@uwo.ca
(t): 519-661-2111 x81195
(f): 519-661-3790
law.uwo.ca/probono